Back to events
Home For Good: Feb 22 2017 (Vancouver)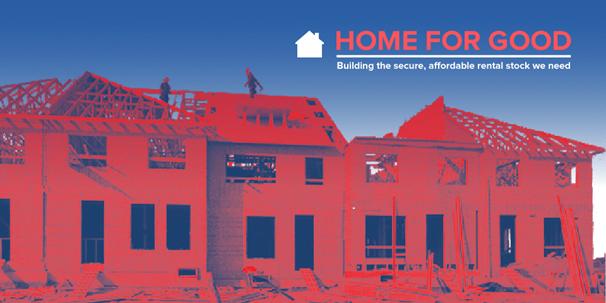 Out of control housing costs for both ownership and rental aren't just a Greater Vancouver phenomenon. Many BC and Canadian communities are experiencing a worsening, wickedly complex housing crisis that has been decades in the making. Shelter insecurity has seeped into the middle and even upper-middle class, and across all age and cultural demographics.
The wealth and social gap between renters and owners is also widening. High rents, reno-victions and low vacancies make many tenants insecure. Government policies often favour homeowners, offering less support for renters who can account for half of urban residents, or more.
An in-depth summary of policy solutions as well as submitted questions and ideas can be found here.
And a video of the event in its entirety can be viewed here.
Speakers included:
Leilani Farha: Leilani is the UN Special Rapporteur on the Right to Housing, and also the executive director of Canada Without Poverty. A lawyer by training, Farha has worked the past 20 years internationally and domestically for the implementation of the right to housing for marginalized groups.
Kishone Tony Roy: Kishone is CEO of the BC Non-Profit Housing Association, which advocates for affordable housing in BC and delivers education, events and other programs to its members. He also sits on the board of Encasa financial – a mutual fund company owned by the affordable housing sector. Kishone lives in Vancouver with his two daughters, Aberdeen and Victoria.
Michael Mortensen: Michael is an urban planning and development professional with a 20+ year career in the private sector and in public service. His experience spans Community Economic development (YMCA), Affordable Housing (CMHC) and Urban Planning (City of Vancouver). Since leaving public service in 2006, he has developed mixed-use communities in Vancouver and Toronto, and - for the last 3 years - in London and Edinburgh in the UK. On his return to Vancouver this summer, Michael launched Liveable City Planning Ltd.. He is currently working with Intergulf Development on the planning for their 14 acre Oakridge Transit Centre site in Vancouver.
David Podmore, O.B.C.: David is the Chairman and CEO of Concert Properties, which he co-founded in 1989 with Jack Poole. Concert develops and manages rental apartments, condominium homes and retirement communities throughout BC, Alberta and Ontario. It is backed by more than 200,000 Canadians, represented by the union pension plans that own the company. Recognized as one of Vancouver's most influential contributors to the real estate industry, David has been in the business for more than 40 years and has served on numerous corporate and charitable boards. He is a recipient of the Queen Elizabeth II Diamond Jubilee Medal, and the Order of British Columbia.
Dena Kae Beno: Dena is the Housing and Homelessness Coordinator for the City of Abbotsford. She has previously held housing and community development positions with the City of Richmond, Metro Vancouver, and other private, non-profit and government bodies in Canada, the US and South America. Throughout her career she has helped to facilitate the development of over 4,000 units of affordable housing and counting.
Tiffany Duzita: Tiffany is the Director for the Community Land Trust Foundation of BC, whose mission is to acquire, create and preserve affordable housing for future generations. As an accomplished real estate development professional, she has worked on projects in both the private and non-market sectors ranging from retail to mixed-use. Her experience involves the full project life cycle: land acquisition, feasibility and risk management, finance, design, city approvals, and construction.
Andy Broderick: Andy is the co-founder and Investment Committee Chair at New Market Funds, which invests in purpose-built, stabilized multi-family affordable rental housing. Andy brings over twenty years of experience in non-profit real estate development including thirteen years launching and managing funds at Vancity and Housing Vermont. Andy is also VP Impact Market Development at Vancity. The dialogue will be moderated by one of The Tyee's Housing Fix reporters.
Karen Sawatzky: Karen is a long-time renter who recently completed her master's in urban studies at SFU and wrote a thesis investigating the extent and nature of Airbnb listings in the City of Vancouver. She also serves as a member of the city's Renters Advisory Committee.
Yuri Artibise: Yuri is a member of the First Avenue Athlete's Village Housing Cooperative and an elected director of the Cooperative Housing Federation of BC.
Kris Archie: Kris is a mother, aunty, community member and Secwepemc and Seme7 woman currently renting – with no home-ownership aspirations – in Burnaby. She cares about community, equity and citizen engagement in decision making. By day she manages the Vancouver Foundation's Youth Homelessness Initiative.
Jenelle Davies: Jenelle is a third-year distance studies history student at the University of Manitoba, renting with family members in Richmond. She is also the Secretary-Treasurer of the BC Federation of Students, representing over 150,000 post-secondary students.
Luke Lazarevic: Luke is employed as a Manager of Housing Services for S.U.C.C.E.S.S. He has previously held building operation positions with the Little Mountain Residential Care and Housing Society and North Vancouver School District #44. He moved to Canada from Yugoslavia 21 years ago.
This event was proudly co-presented with SFU's Vancity Office of Community Engagement, Vancity Credit Union, Canadian Housing & Renewal Association, SFU Urban Studies, and BC Non-Profit Housing Association. This event is also supported by the Real Estate Foundation of BC, McConnell Foundation, Catherine Donnelly Foundation, UBC Applied Science, and BC Federation of Students.